Air operated diaphragm pump
Diaphragm pumps
FLUIMAC air operated double diaphragm pumps have long been recognized as the most flexible pumps of the industry for handling difficult liquids at relatively low pressures and flows. The range of applications is virtually limitless.
Phoenix
FLUIMAC AODD pumps come in a lot of sizes, from 1/4" to 3", and a lot of choices of materials of construction: PP+VTR, PP+CF, PVDF+CF, POM+VTR, POM+CF, ALUMINUM and SS AISI 316. Almost every type of liquid from highly corrosive acids, alkaline fluids, paints, adhesives, fluids with high viscosity up to 50.000 CPS, food and drink products can be pumped.
To select the right FLUIMAC pump for your application, the following factors should be considered to achieve economy of operation, long pump life, and minimal maintenance costs:
The nature of the medium to be pumped, its viscosity, and the solids content;
Pumping capacity in relation to the desired output;
Suction and pressure conditions;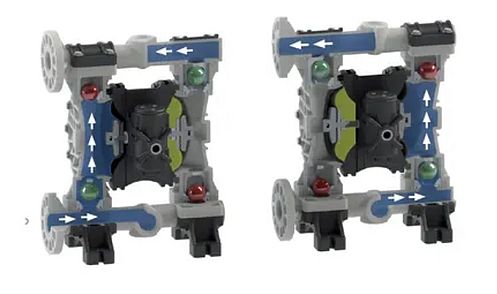 PUMP OPERATION
The operation of a double diaphragm pump, or pneumatic diaphragm pump, is both simple and effective: they are pneumatic pumps suitable for transferring fluids with reciprocating motion.
The pneumatic diaphragm pumps are equipped with two opposing pumping chambers, hermetically divided into two, one in contact with the compressed air and the other in contact with the pumped fluid.
The diaphragms, placed between two pumping chambers and activated by the pneumatic motor, and the valves, designed to ensure the total passage of the fluid both inlet and outlet, are the only parts in contact with the fluid.
Air operated double diaphragm pumps, or air operated diaphragm pumps, are designed and manufactured to pump a wide range of fluids even with high viscosities and with suspended solids.
They can also be used for heavy-duty applications such as environments with high humidity or potentially explosive atmospheres thanks to the ATEX Directive with which they are equipped.
Unlike other types of pumps, the diaphragm pump for liquids has no limits of use, also adapting to dry operations, to mix fluids, in self-priming and submerged.
Made in Italy industrial pumps since 2012
All Fluimac® pumps are Made in Italy
Fluimac® is a young and dynamic company specialized in the design, construction and production of industry pumps: air operated double diaphragm pumps (diaphragm pumps or pneumatic pumps), pulsation dampeners, horizontal centrifugal pumps with mechanical seal, magnetic driven centrifugal pumps and vertical centrifugal pumps, peristaltic pumps, industrial electric mixers and pneumatic mixers, drum pumps, air motors and dosing pumps. Fluimac® pumps are able to ensure quality and complete range of products and solutions. Furthermore, Fluimac® staff ensures adequate technical support and assistance quickly and comprehensively.