DEUBLIN is a leading manufacturer of rotary joints in the field of industry and renewable energy sources.
A rotary joint is a mechanical device that allows fluid under pressure to be transferred from a stationary source to rotating parts of devices such as cylinders, cylinders, tables, spindles or drives for the purpose of heating, cooling or transmitting hydraulic power.
Based on several decades of experience in performing demanding rotary joint applications, Deublin has also developed electric slip rings that include operation in demanding environments. Long-lasting slip ring technology ensures constant and reliable operation without the need for maintenance.
All Deublin products are 100% tested before being offered to customers and are manufactured using state-of-the-art manufacturing processes.
Deublin products are present in different industries:
Rotating unions for air and hydraulic
For air and hydraulic oil service
Mono flow design
Self-supported rotating union
Radial housing connection
Balanced mechanical seal: Carbon Graphite/hardened Tool Steel or Carbon Graphite/Ceramic
Felt oiler in seal cavity for air service
Oiler for re lubrication (3 - 5 drops/month)
Low torque
Weight optimised design
Aluminium housing
Stainless steel or steel rotor (respective of model)
Rotating Unions for Water
57 Series with silicon carbide seals for water service
55 Series for General Purposes
Mono flow and duo flow design
Self-supported rotating union
Radial housing connection
Balanced mechanical seal
Pinned rotor seal
Easy and quick replacement of sealing components (rotor seal, floating seal)
Ball bearings lubricated for life
For poor water quality
3 vent holes
Forged brass housing
Stainless steel rotor
Special options: threaded vent holes, bearings splash proof, nickel-plated versions
Rotating Unions for Coolant
"POP-OFF" for coolant service with dry-run capability
Mono flow design
Self-supported rotating union
High-wear resistant balanced mechanical seal: Silicon Carbide/Silicon Carbide
During pressure less operation an unlimited run without media is guaranteed by seals that "pop" apart ("POP-OFF")
High-precision angular contact ball bearings in an X-arrangement
902 series with deep-groove radial ball bearings
Effective labyrinth system and large vents protect bearings
Full-media flow
Anodised aluminium housing
Stainless steel rotor
Dry-run under pressure less condition only
Rotating Unions for water in continuous casting plants
For Water service at continuous casting steel plants
Mono flow and duo flow design
In-the-shaft mounted rotating union
Flanged housing or mounted with retaining plates
High-wear resistant balanced mechanical seal Silicon Carbide/Silicon Carbide
Brass housings and elbows
Stainless steel rotors and supply pipes
For poor water quality
Long composite bearing
Bearing protected by O-ring
Full-media flow
Rotating Unions for Steam
For Steam or Hot Oil Service
Mono flow and duo flow design
Self-supported rotating union
Designed for steam and hot oil applications in paper, plastics and textile industries
Effective on a variety of applications, especially on open gear paper machines
Pressurised spherical carbon graphite seal
Ni-Resist counterface
Two widely spaced graphite bearings
H57 - H127 optional with sight glasses in the end cap for visual inspection of condensate removal
Seal wear indicator allows preventive maintenance
Flanged or threaded rotor available
Cast iron housing
Steel rotor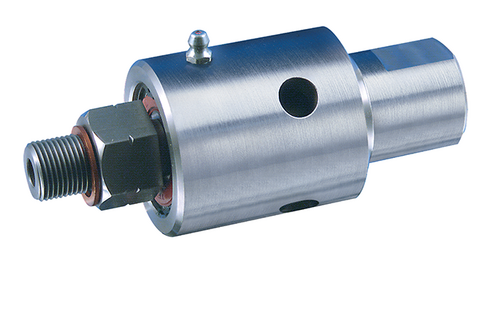 Rotating unions for high pressure and/or high speed
For water or hydraulic oil service
Mono flow design
Self supported rotating union
Designed for high media pressure and high RPM
Seals made of Tungsten Carbide
Double row ball bearing, lubricated for life (excluding ZAP)
Vent holes
Steel housing
Stainless steel end cap and rotor
All parts in media contact are stainless steel and corrosion resistant
Can't find a suitable product in the Deublin range? Together with Deublin, we can offer the development and manufacture of special custom rotary joints to suit your specific needs. The design of custom-made rotary joints can vary from small modifications of existing components to the complex design of completely new rotary joints.
Contact us and we will help you develop custom-made rotary joints to suit your needs.